stephanie and michael's new year's eve maritime parc wedding was the coldest wedding i've ever shot in my 13 years of photographing weddings! i've seen a great increase in winter weddings over the last couple of years and i'm loving it. for the most part, the winter weddings have been mild, but combine the wind with the super cold temperatures of new year's eve and it was brutal. five minutes was too long to be outside and enough time for the pain to set in. stephanie and michael were total troopers about the cold. i had to employ my ultimate photographic ninja skills in order to work super quickly… i'm talking photos in under 4 minutes! happy that stephanie hired delia studios last minute for videography because i knew jose could keep up with my pace and make video magic happen.
i started off with the guys who were just around the block from the ladies in jersey city…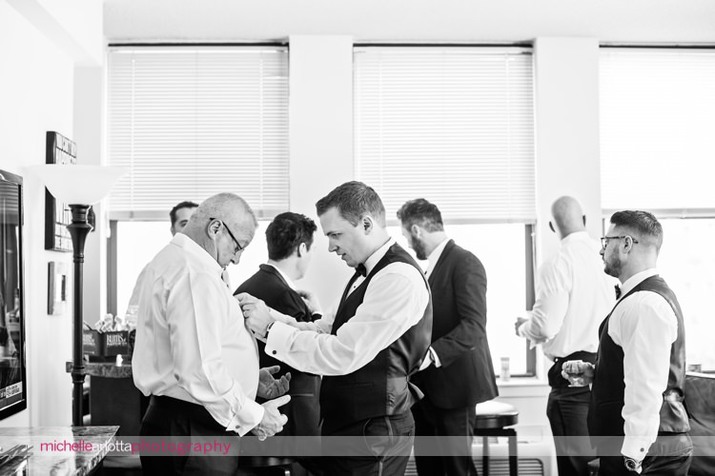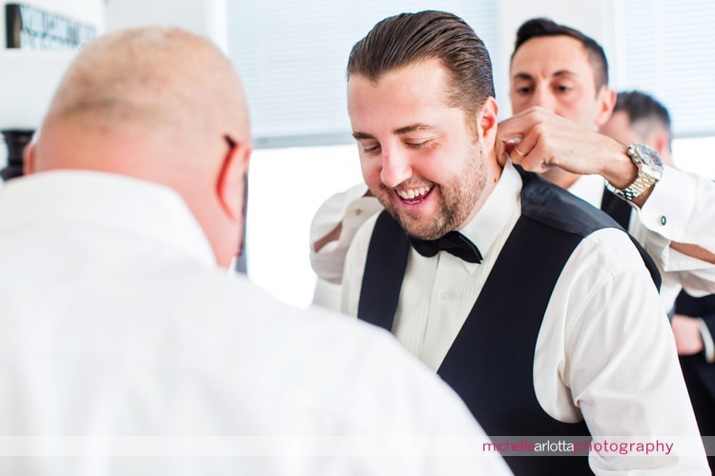 usually, my favorite portraits are the most candid ones…









stephanie and michael have a 'sopranos' pinball machine in their place. admittedly, it doesn't go with the decor, hahaha, but stephanie is a good sport. we also made sure to take a pic of her playing it :o)
wonderful working with amy from beauty on location nj…



gorgeous dress by stephen yearick…



am i the only one that finds the humor in this?


















stephanie had a first look with her dad. it was quite emotional.



sometimes i'm actually laughing inside when my brides tell me that they aren't very good and are uncomfortable with taking portraits because i know what i'm getting in my camera.  undoubtedly, it takes some skill to get a good portrait of someone that isn't super comfortable taking one (which most people aren't), but it's like my little secret surprise to them when they get to see how awesome they look…
gorgeous hair by melandre's salon…



a little pinball on the wedding day…



these ladies are awesome for actually standing outside for a picture!



don't be fooled… even inside this part of the train station, it was ridiculously cold!


















when i looked back at the timestamps for this series shot at the memorial, it was 4 minutes, including the walk back to the shuttle. and yet, within that four minutes, the numbness had already set in!






i love how the sun looks sooo golden and warm… (it's all a lie)



we took a few minutes to take some pics inside maritime parc…






michael watches as stephanie walks down the aisle…




































this is the part where stephanie's dad admits that she is the golden child, hah.












although i get to follow katie and todd's adventures with their little one on instagram, it's always nice to see my couples in person again!



i've worked with jiminez tobacco quite a few times. these guys are the real deal.



new year's eve maritime parc wedding bride and groom midnight moment…






'you want your fireworks?!? here's your f*@#$*!% fireworks!'  -the wolf
while stephanie and michael's new year's even maritime parc wedding will go down as the coldest wedding i've ever shot thus far into my 13 year career, it was definitely a beautiful and fun-filled one! a huge thank you to my husband who gave up his holiday time off to spend the day assisting me!