i've always wanted to shoot a city hall wedding, but never had the opportunity. although big weddings are fun, there is something really sweet and intimate about a city hall wedding. when tracey called me to chat about her queens borough hall wedding, i was excited that her personality was the right fit for mine and my style of shooting, that i was available and that i wasn't going to be too pregnant to take on the job!  and… to make it more fun, tracey is pregnant as well, just about 3 weeks ahead of me!
i love how different the moments before getting married are for a city hall wedding. it's a bit of logistics with paperwork and other couples waiting to get married. i thought the anticipation of waiting for your turn was pretty neat…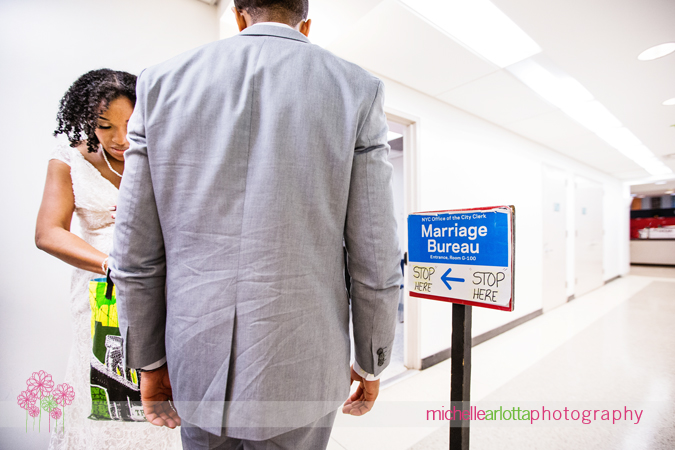 and this little cutie pie is leah, tracey and clester's daughter. i gotta give her credit for hanging in there pretty well for what is a pretty unentertaining place for a kid, despite the momentous occasion she was partaking in…









love this shot of clester walking leah around to entertain her while they wait…love the look she gives me.  (i also think maybe the bride in the background thought i was taking a pic of her, hah)
leah takes a minute to take a call…









i knew the ceremony would be really quick which was a fun challenge to catch a bunch of different images… just a few of my faves to follow…















love this moment… so much happy!



this is too cute… made so much cuter by tracey's bump…















we took some time to 'ride' the train…



tracey and clester checking out their rings on the train…



clester showing tracey how he rides the train… asleep. meanwhile, tracey avoids taking the train at all costs….









i love clester's infectious smile!






checking back in with leah at the end of our shoot. maybe one day she will read this and know that i was thankful for her being as patient as she was while we took pictures…thanks, leah!



such an honor to photograph tracey and clester's wedding. i couldn't be happier with my first city hall wedding experience and i'm very excited for tracey, clester and leah's new addition!