i've shot all kinds of weddings in my 12 years of professional photography, but i do really enjoy intimate weddings at inns. allison and troy got married at the quaint inn at millrace pond in northwest new jersey on a beautiful late fall afternoon.
while i had been turning weddings down because my calendar was so full for 2016, allie's personal inquiry to me coupled with a venue that hosts intimate weddings had me intrigued. i decided to entertain the idea of photographing their day and i'm so glad i did.  with just about 6 months to go, i met with allie and troy to find they are such a sweet and genuine couple with the right attitude about their day, i knew they were a great fit for my personality and photographic style. beautiful venue, beautiful weather and a beautiful couple…
with just a best man and a maid of honor, allie and troy's preps were calm and quiet..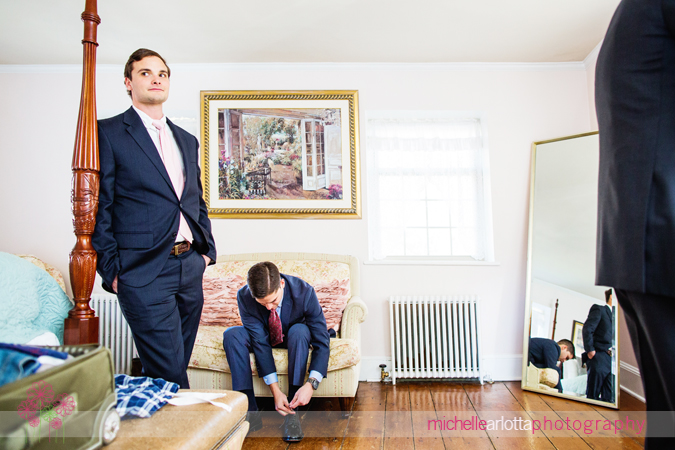 a nice outdoor fall scene lint-rolling pic…



allie's mom watches on as her make-up is applied…


















i love this. usually people want to be all dressed up when they help the bride get dressed, but allie's friend was chilling in her bath towel. i love the juxtaposition of their outfits and i love that it's a real, raw moment. 






such a beautiful spot to get married…



troy and his brother share some laughs just before the ceremony starts…



allie approaching the ceremony site….



troy watching his bride approach…









how wonderful is this setting for a ceremony?
























you know a couple is a good fit for me when there are pictures of their cats at the welcome table…



beautiful tented reception area…






























allie and her mom having some fun!









the bride on the mic! allie sang 'teenage wasteland' to her adoring fans. this bride has some singing skills!



am i the only who thinks, 'i really hope that pole is secure?' when they see this picture…









it was my honor to capture allie and troy's nuptials at the quaint inn at millrace pond on a perfect late fall afternoon. such a great time from start to finish. thanks to brian leong for assisting me.