i love me some backyard weddings so when casey reached out to me about her backyard wedding at the new jersey shore, i was excited to hear more. korean fusion taco truck, giant jenga and a rice krispie wedding cake… um, awesome! it was a beautiful, perfect day for casey and stephanie. these two were literally beaming from ear to ear all day!
casey and stephanie got ready in the same house. awesome. they also both had custom suits made for their big day.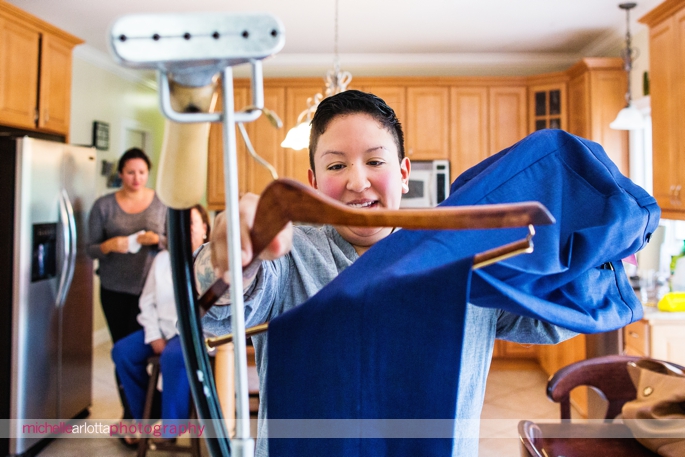 casey bought stephanie an iced coffee, but since the two didn't want to see each other beforehand, they did a hand-off…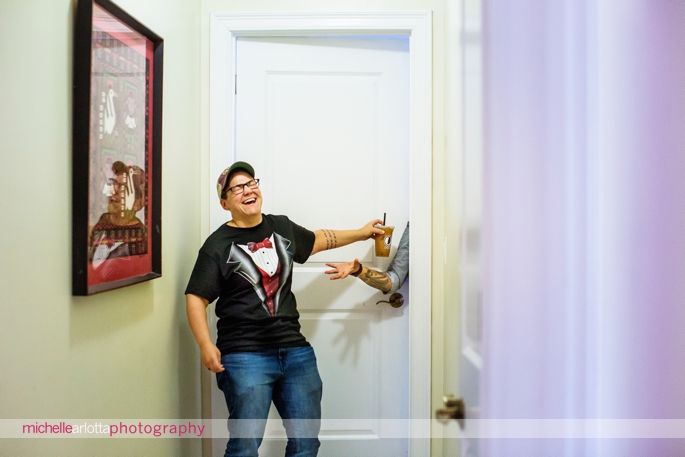 laughter and smiles… all. day. long.



casey and stephanie had the same exact wedding ring…






sometimes it takes three people to figure out how to zip a dress up…



meanwhile, stephanie needed a little assistance with her awesome suspenders…









love this moment from their first look…






although casey and stephanie's ceremony was just under eight minutes, there were plenty of smiles to capture…









casey's dad was supposed to officiate their ceremony, but sadly, he passed away less than a week before their wedding. however, everyone worked together to get the proper paperwork and make arrangements to have her dad marry them in his hospital room. a bittersweet moment for sure, but so special that he still got to marry them. i love that casey and stephanie's day was so full of joy in the wake of such sadness.









casey and stephanie would both randomly break out in dance during their prep so i wasn't surprised when they danced down the aisle together!






a sweet moment between casey's mom and sister…



i wish i could shoot all of my family portraits like this one…



super windy boardwalk and the bridal posse…






gotta love the colors of asbury park…






i'd tell you what we were laughing and high-fiving about, but i might lose some followers… hahaha….






you know you've been shooting a long time when you end up knowing weddings guests. so fun seeing a former bride's sister…









casey attempts to highjack the cake!












i just love the expressions here. really makes you wonder what was being said…



sometimes a couple takes a moment to themselves amidst the happy chaos of a wedding day…



such a blast with casey and stephanie and their friends and family at their backyard wedding at the new jersey shore. super chill vibes, amazing weather, contagious smiles…. thanks to joe spada for assisting me.