morgan and justin's ryland inn coach house winter wedding was a snowfilled day full of smiles and an awesome party! i've been photographing at landmark venue's ryland inn since it first opened several years ago and was excited that they added another space to host weddings. landmark hospitality always does a phenomenal job with their weddings and i knew their new coach house ballroom would not disappoint. i've been loving the increasing popularity of winter weddings that i've seen over the last couple of years, but it's a rare day when we get to have snow all day long. i had the pleasure of photographing a ryland inn wedding last winter with shannon and brandon… what a difference a year and some snow makes! i love that morgan and justin were all about going out in the snow for their photos. it was definitely cold and messy, and with a late church start we ended up racing against the light a bit, but these two were total troopers about it!
the guys got ready in the ryland inn's new pelham house…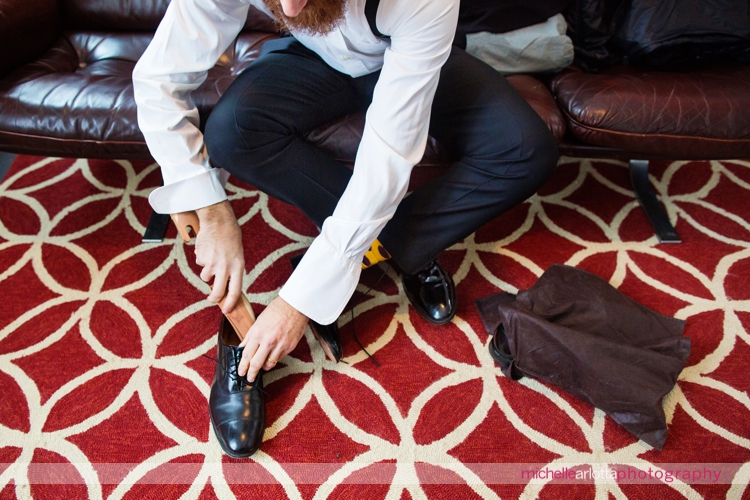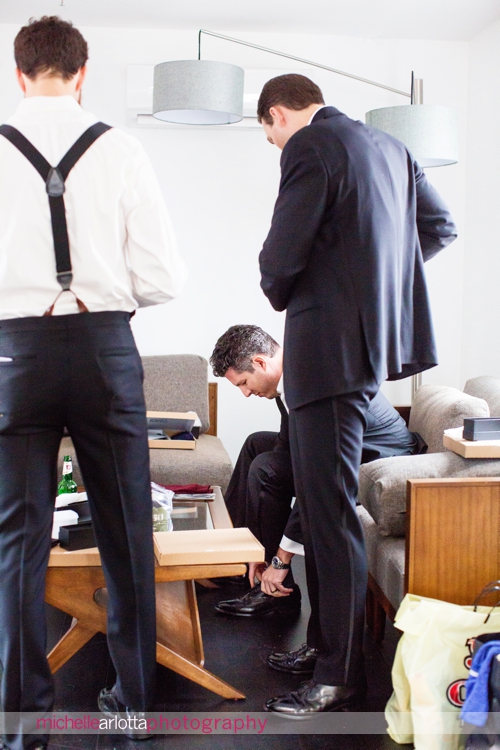 love a classic tux. this one is by lee baron, a bespoke custom tailor…






samantha agostino working her magic!



love this shot of the ladies looking out the window from the kimblewick house to see the guys getting ready to leave…



caught the guys trekking through the snow to head out to the wedding ceremony….



morgan's sister helps her with her kate spade shoes…



morgan watches as her sister helps her get into her wedding shoes…



love morgan's natural beauty winter wedding bridal look…



beautiful winter bridal bouquet by crest florist…



morgan heads out of the ryland inn's kimblewick house into the snow to head to her wedding ceremony…



i was very restricted as to where i could photograph from during morgan and justin's wedding ceremony, but i think i made the best of a limiting situation!









always love laughter during a wedding ceremony…









love how justin is looking at his bride…















the snowfall made for such a beautiful backdrop for pictures for morgan and justin's ryland inn coach house winter wedding…



i really loved that despite the very cold weather, the wet snow and the messy slippery conditions, morgan and justin were all smiles…
winter wedding bridal party look inside the ryland inn's coach house ballroom!



some beautiful winter wedding floral details…



party time with craig scott entertainment's band, escapade…









i'm not one to take my couples away from their party for nightshots since my couples tend to be the kind of people that don't want to miss a minute of their party. nightshots have to be a bit more posed because of the lighting conditions and my couples really enjoy a less posed approach. with the constant snowfall, i couldn't resist asking morgan and justin to head outside for a few minutes so we could grab a few more photos of the two of them. glad they were up for it because the snow was so worth it. oddly enough, it actually felt a lot warmer than when we were taking pics earlier in the day which was great because we were able to highlight morgan's chiarade wedding gown…









smores by the outdoor fireplace!
























in my thirteen years of photographing weddings, i do not remember a wedding day where it snowed from when i started packing up my gear until i got home and started unpacking my gear.  loved all the aspects of morgan and justin's ryland inn coach house winter wedding, especially the awesome party! always so great to work with landmark venues and their staff. thanks to my longtime assistant, kelsey davis, for bearing the cold with me!