after seeing catie and peter two times at other weddings this year alone, it was finally their turn to celebrate their marriage on a beautiful late fall day at the roundhouse in new york's hudson valley. i first met peter over 3 years ago when photographing a wedding for some of his friends. at the end of the wedding, he was there with his pizza truck (dee-lish!). after photographing his brother's wedding and a couple of his friend's weddings, it was finally his turn to be the groom. after so much wedding practice, catie and peter knew how to just roll with it the day of for their roundhouse wedding which made for a fantastic time for all! and what was so awesome for me was having five couples together whose wedding's i've shot including two sets of siblings and a lot of familiar wedding guests who are always a blast to photograph!
love this moment when catie took some time to herself to write a letter to pete…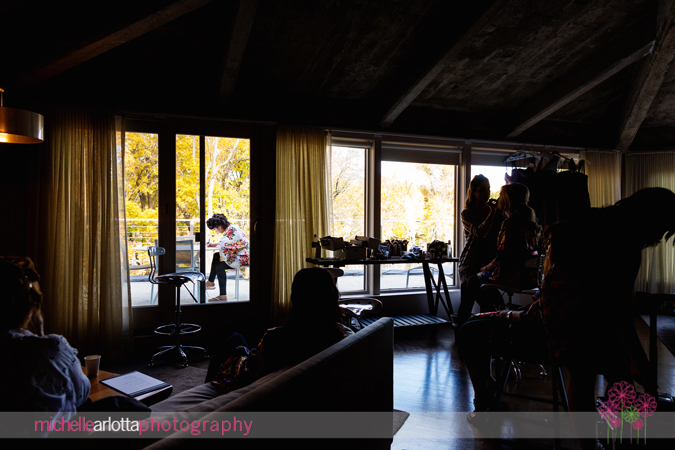 i love this shot because i have a very similar one of pete's brother joe from a couple years ago…









if you could scratch and sniff the screen, you'd smell some rosemary on these dark and diamond boutonnières…



catie's dad sees her in her wedding gown for the first time…






i always laugh when people ask if my brides are real. yes, they are real. very real. i don't do styled shoots… only real people in real time. make up by denise delrusso and hair by stephanie pontes









i like the way the sun peeked into my lens on this shot…



i love how shades of purple were chosen for a late fall wedding…



little kids usually do one of two things when walking down the aisle: run excitedly down or spend the whole time looking back for someone to save them…



two of my grooms from this year laughing at the altar…



there's always that moment that the groom takes a deep breath as the bride walks down the aisle. this happens regardless of whether they saw one another ahead of time or not. walking down the aisle is 'go time'.






catie's brother acted as officiant…















even catie's nephew is having a good time…



i'll be honest, i don't know much about plants. i have trouble keeping anything alive, but i enjoyed the greenery of these centerpieces…



if a candle was out at your table, i know who did it…









pete surprised catie partway through their first dance by singing their real wedding song, "ho hey" by the lumineers, while playing along with some friends…









amidst the excitement of their first dance, catie gives pete a quiet embrace…



i see a lot of my past couples at weddings that i'm shooting.  i'm not one to go around collecting all my couples at a wedding for a photo, but the fact that i had five together was pretty awesome and a new record so i had to get this shot.
thanks to tracy and ryan for initially putting the good word out there for me and so excited for their little one to arrive.  if i'm still shooting weddings by the time he/she gets married, i'll honor my 2016 pricing for them, hah.  of course i'll likely be in my 60's so i can't promise what shape my ninja skills will be in or that i won't have moved to some island to retire and drink margaritas all day by then…
after eating some dinner, i returned to the room to see this!






chris, a 5-time wedding guest veteran of mine and and tiffany, a 3-time (this year alone!) wedding guest veteran of mind have fun with sticks that light up. (what do you call these things???)



people change when you give them a stick that lights up to dance with…












if chris is in attendance, it's mandatory that the groom does a santoro wedding fist bump with him! 



as i was about to take this shot, a hand came flying into my frame so i used my ninja skills to move quickly to capture catie and peter kissing at the end of their reception!



once again, so honored to have captured so many couples in attendance at catie and peter's wedding and love seeing so many familiar faces. congrats to catie and peter for a fantastic day. such a pleasure working with them from start to finish. thanks to kelsey davis for assisting me.