lindsy reached out to me just a few months before her bear brook valley wedding. if you've followed my blog, then you know i love a couple willing to plan a wedding in a short period of time. after working at rock island lake club for the past three years, i knew their new bear brook valley venue was going to be fabulous.  although it was much colder than any of us anticipated for their asbury park engagement session, lindsy and jonathan had a cool, breezy summer day for their wedding!
jonathan loves sneakers. he had custom nike sneakers made for himself and his groomsmen…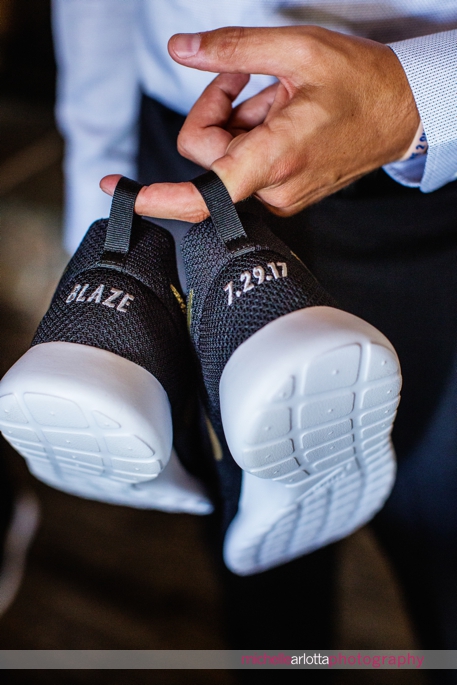 i like people who are willing to live on the edge a bit. having your tie ironed while wearing it = awesome….












reflections are not something that i purposely seek out.  it feels a bit cliche in an industry filled with cliche's, but when they happen to pop up, i'm happy to incorporate them…



with so much work booked for my fall and spring seasons, i was able to take the past two summers off from photographing weddings, but i missed out on some really awesome color schemes. loving all my summer wedding color schemes…
how awesome are these wristlets for the moms? and be still my heart, little big farms grows their flowers organically!
after being in the wedding industry for almost 13 years now, i've seen more than my share of dresses hanging in windows. i love how the awesome details of lindsy's maggie sottero wedding dress were picked up by the light juxtaposed with a moment where the bride and bridesmaids were standing still in a silhouette…


















maggie sottero wedding dress with pockets for the win!
love a soft bridal 'down-do' for the wedding day. perfect for this breezy summer day. beautifully done by simply gorjess hair…


















blue skies at bear brook valley



sweet moment and such beautiful make-up by timmy alan...



a little practice for their first dance…















these plum pretty sugar bridesmaid dresses were perfect for lindsy and jonathan's color scheme…












what do i love about this pic? no one is holding their phone up to take a pic. just enjoying the moment!



rev jill dillner hands off the rings…



although i take detail photos, i'm not big on filling my blog with them because the internet has far too many already and i love to focus on the real moments. however, doing all of these summer weddings this year, i had to show off some of the beautiful color schemes i'm seeing. spark wander did all of lindsy and jonathan's gorgeous hand lettered signs for their bear brook valley wedding.



lindsy and jonathan worked the whole dancefloor for their first dance! i'm sure jose and his crew at delia studios got amazing video coverage of it. 









make 'em cry…
party time! always know it's going to be a great party when sce event group is in the house. great working with christian l again…






























when you're so tall, half your head ends up out of my frame…












a great time was had by all despite missing their sweet pup, eevee. such a pleasure working with lindsy and jonathan on their bear brook valley wedding. thanks to joe spada for assisting me.