darya and juan were blessed with a gorgeous summer day for their castle at skylands manor wedding in new jersey's botanical gardens. as ballroom dancers, i knew i'd be in for some awesome dancing during the reception. and dancing is how they found me! one of my beautiful bride's fathers takes lessons with darya and had mentioned me to her. he did a fantastic dance with his daughter at their wedding at the gables on lbi last year. i could literally watch darya and juan dance together for hours!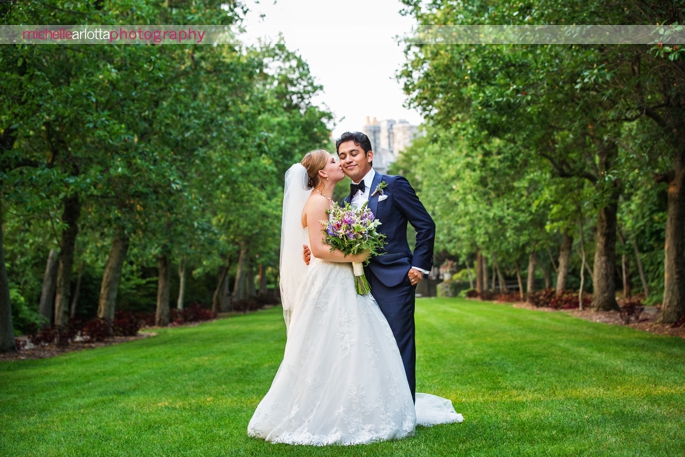 juan's brother gets a little help with his bowtie…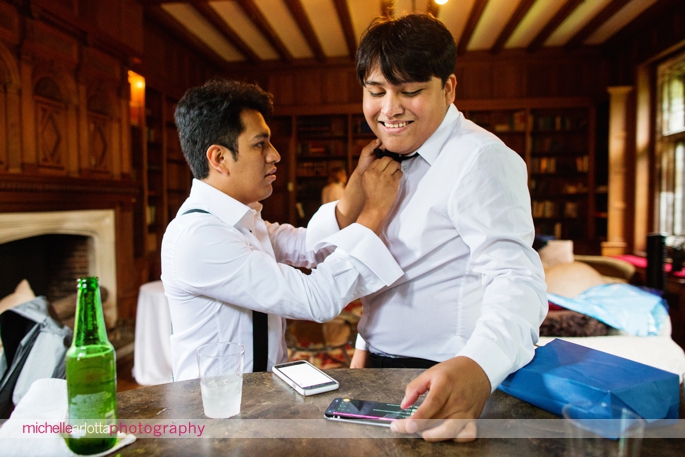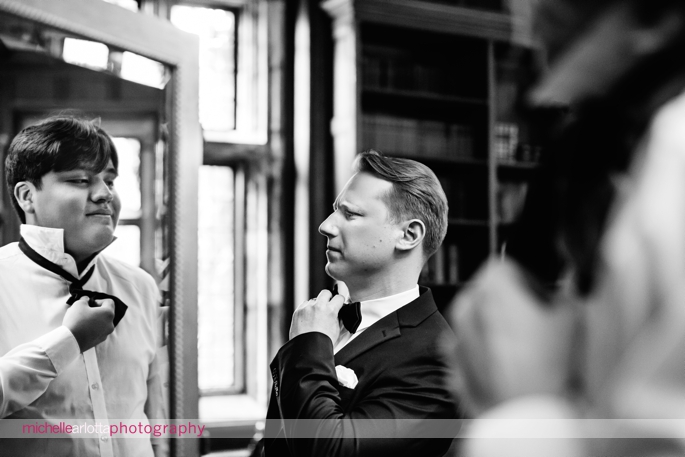 juan looking handsome…



checking out their selfies…



a little dramatic light. what makes me love this image more is i didn't ask the makeup artist to hold her pencil. so much of what excites me about wedding photography is capturing the real story, not the staged story that has become so popular. 









i really love this image as well. while the bride putting on shoes is generally a bit staged to make it more dramatic, sexy or romantic, i prefer when it's just real. 






darya and juan didn't want to do a first look, but they wanted to have a moment together prior to the ceremony. without telling them what to do,their expressions being synchronized with laughter at points and the direction of their eyes mirrored one another. pretty neat to watch while they had no clue what the other was doing. there was a lot of laughter and some tears (of joy, of course!)…












an emotional walk toward the ceremony site with darya and her dad…



juan watches as darya approaches down the aisle…






the castle at skylands manor has a fantastic spot for an outdoor wedding ceremony…



love how these two looked back at me in curiosity…









ceremonies that have both laughter and tears are awesome…


















although darya is mid cry here with tear stains down her cheek, i had to share this image. right after their ceremony they went off together for a minute and i like to give my couple a few minutes to themselves. when i looked over, i saw her emotional and it was such a beautiful moment because she was so moved by the ceremony. this is what weddings are about. this is why you don't see 25 pictures of a bouquet and shoes at the start of my blog. this is why i capture weddings. for the fact that my couples are so in love with one another, they are moved to such emotion on their wedding day and that i can capture it beautifully to share the joy. 


















i had asked darya if they had planned a special dance for their first dance since her and juan are both ballroom dancers. she said that they didn't. they were just going to dance. i think that is awesome that in some ways, they left work at home and took the fun part of it to just dance together. of course they dance freaking beautifully together without rehearsing anything!






darya and her dad did a kick-ass dance!






the toasts brought tears and laughter. i love how everyoe in this pic is trying to hold back their tears in that transition between smiling and crying



i expected there to be an inordinate amount of talented dancers at this reception given that darya and juan likely know a lot of dancers. what i did not expect was for literally everyone to be amazing. this crowd could move!






i don't know what this song was. it was russian and fun and intense and these two did a great job of expressing it through dance…



that's darya in the middle with her butt being used as drums.. hahaha…















although i have shot over 300 weddings, this was my first castle at skylands manor wedding in new jersey's botanical gardens.  fantastic weather at a beautiful location and so many raw emotions all topped off with some amazing dancing! thanks to joe spada for assisting me.